Domaine de Montrose
Domaine Montrose is the fruit of Coste's family labour, a family who have been perpetuating their winemaking know-how for more than 300 years, and who lovingly work to ensure this heritage is passed on to future generations.
Family terroir
Montrose is located in the South of France, in the Languedoc region, just a few kilometres from Pézenas and the Mediterranean. The property boasts 80ha of vines, grouped together around the estate.
The estate is located in Côtes de Thongue, a small region made up of about fifty producers. The producers of this wine appellation have the particularity of having declined to be granted official AOC certification in order to ensure their own freedom, to be able to create their own personal wines.
Despite our navigation system we could hardly find the winery. So Olivier, the runner-up from this wine dynasty, picked us up with the car, what a service. Along a long driveway full of pink and white oleanders, we drive to the estate. Straight ahead is the right site of the large mansion. Oliver shows us the 'basement' soon to be extended before the harvest. Most barrels are made of concrete from the early 20th century. Olivier explains that these giants are always cleaned by two men. One is outside and talks constantly to his companion to make sure that the other is still doing well. The most contains in fact a lot of nitrogen. One can feel unwell (sometimes people have even been killed, but fortunately not at Montrose). At the bottling line is much activity and work continues. Different pallets are waiting for export to Switzerland, the Netherlands and Norway. Each country will come to their own needs. The Dutch and the British like a screw cap for rosé, in the traditional Switzerland only a cork screw is permitted.

Accessible wine for everyone
After the bottling line, we go through the office space in the tasting room. Obviously we have no objection to that. Via the Chardonnay, we taste the Rose (the bestseller) and afterwards various reds. Finally we have a dessert Muscat wine. Olivier tells us he likes to make accessible wine for everyone and for everyone to appreciate it from the true amateur drinker to the professional. That has certainly succeeded. Just before we finish the tour Oliver shows us their latest novelty: a super deluxe guesthouse. Of course you can always opt for a night on its site. In short, a visit to the Domaine Montrose is more than worth it.

At Montrose they often organize blind tasting with roses from befriended wineries. Ask for it.
Activities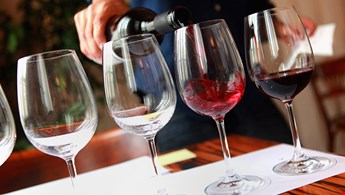 Videos
BestWineRoutes visits Domaine de Montrose.
Contact
Domaine de Montrose

Tourbes, France
T: +33 (0)4 67 98 63 33
E: info@domaine-montrose.com

French, English
8AM to 6PM, Monday to Friday.